CAN.info - Canadian Business Directory

Welcome to FREE and user friendly Canadian business directory. Why CAN.info? This domain is easy to remember, there are no hidden fees, site is user friendly and it is 100% free for both: business owners and business searchers. Our online communication with visitors keep can.info business data base up-to-date. Every new entry or changes are moderated to reduce spammers activity.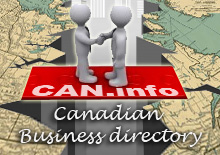 Business owners click here if you have any question regarding our site.
Are you looking for business? Find Canadian business in 4 easy steps:
1.) Search category
(Use search field on top of the page or choose first letter of the category name)
2.) Choose state (province or territory of Canada)
3.) Find city
4.) Search business name (Use search field on top of the page inside any category)
Start searching business category with search filed (top-right corner) or with clicking on first letter of the category:
Main specifications of CAN.info:
100% (forever) free
Approximately 2 million companies or business from all over the Canada classified in 1000 groups
Easy to use
Human edited site - if you notice spam or error, please, inform us
Users will remember this short domain - Your Business should be here too